« Previous Day
Next Day »
This post was originally published on my soccer blog at FirstTou.ch, it is being preserved here as I shut that site down.
Credit to Mike Donovan for his research, turning up two iconic news clippings. Reported in the Oregonian on Nov. 29, 1907 is the first mention he could find of Seattle and Portland facing off in soccer.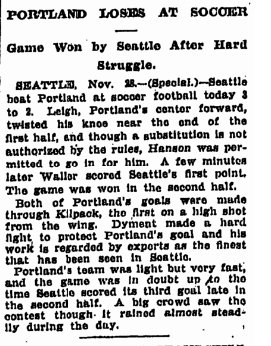 Here's the Seattle newspaper reporting on the same match, thanks to Frank MacDonald for sharing.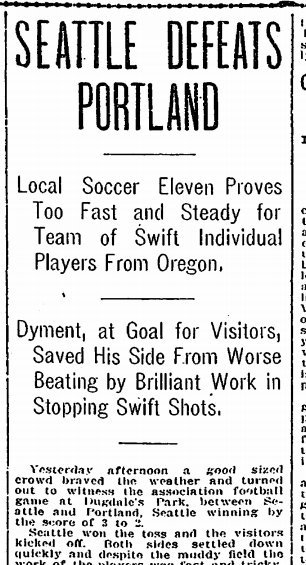 The second clipping Mike turned up this clipping which is the first match between the two rivals played in Multnomah Stadium (which is what we know today as Providence Park) from March 1929.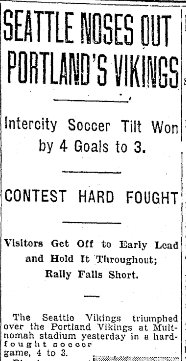 While those go much further back, it's 1975 which we regard as the modern era of the Seattle vs. Portland rivalry. It was won by Seattle thanks to a Jimmy Gabriel penalty. Here's the newspaper reporting on it as shared by Frank MacDonald on Twitter.

This rivalry truly is something special here in the US, but don't take my word for it. Here's Eli Mengem, host of Copa90's Derby Days series, sharing his thoughts and experience as he experiences Seattle at Portland a few years ago.
In preparation of today's match, the Sounders produced this video featuring the narration of ex-Sounder DeAndre Yedlin. It gives me goosebumps every time I watch it.
5/13/2018 6:43 am
|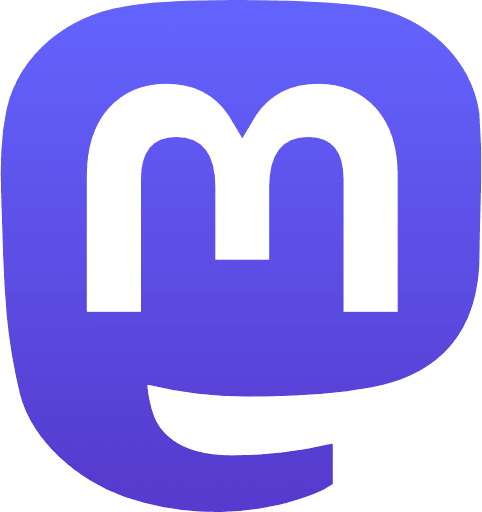 |
📧 Daily Newsletter
Get an email with the day's links and posts delivered to your inbox! Sign up here.
« Previous Day
Next Day »